I have one photo in the Blue exhibit at the Gallery in the O'Hanlon Center for the Arts in Mill Valley. The whole exhibit explores the wide range of shades that we call blue, and the moods and feelings they can represent.
My photo is entitled Fractured Forest #3; it's one of a series I took of ice on a pond at my dad's house in Connecticut–it was 15 degrees out when I took them! Here's another one of the series: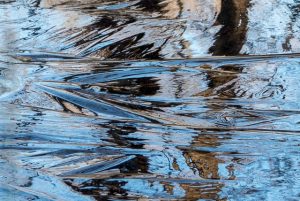 If you'd like to see one of the others in the series, please drop by. The O'Hanlon Center is at 616 Throckmorton Ave, Mill Valley, about a mile past the library. The Gallery is open Tues-Fri 11-3, and Sat 10-2. The Blue exhibit will be up from 3/29-4/19/18. Hope you can make it!